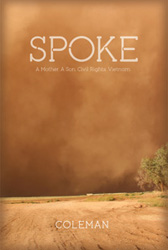 Spoke
ISBN: 978-0-9896431-0-8
$16.95
Coleman has written a moving and thoughtful memoir of his formative years during the tumult of the civil rights and anti-Vietnam War movements of the 1960s. An intensely personal journey into the past that offers vital lessons for the future, Spoke combines the intimacy of an autobiography with the drama of an exciting and well-told story — all underpinned by the gravity of a serious work of history. The result is a highly readable and incisive work filled with tragedy and triumph, a resonant narrative informed by Coleman's singular life experience and his candor in speaking hard truths.
In 1963, Coleman's mother was engaged in the civil rights struggle in Oklahoma, participating in lunch-counter sit-ins and demonstrations and the historic March on Washington. On the bus to Washington she agreed to sell her home in an all-white suburb to a black doctor. This led to her illegal incarceration in a mental institution as a means to stop the sale and silence her continuing activism.
Five years later, prompted by the assassination of Martin Luther King, Coleman initiated his own civil disobedience in protest to the Vietnam War. His act of defiance serendipitously created an opportunity to free his mother.
Coleman's experiences, and those of his mother, provide a lens through which to view one of the most tumultuous decades of the twentieth century. Drawing on his memory, his mother's written reflections, interviews with contemporaries, and newly available documents, Coleman recounts a tale that is by turns harrowing and inspiring.
The book takes readers from the lunch-counter sit-ins of the early 1960s to the draft-board raids later that same decade; from Martin Luther King's 1963 March on Washington to the 1968 DC Mobilization Against the War; from the nightmarish conditions of mid-century state mental institutions to the soul-less sterility of the federal prison system; from the advent of women's lib to the dawn of the sexual revolution.
Coleman reflects on his mother's remarkable courage, on his country's tangled history and on the stark moral choices faced by his mother, himself and their two generations.
284 page paperback, 6 x 9 inches