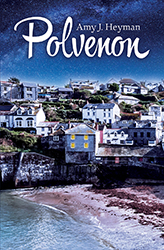 Polvenon
ISBN: 1-942586-32-9
$15.95
1827 – Cornwall, England
Emily was left on the doorstep of the Tremorna orphanage shortly after she was born. When she was four, she was adopted by the Trescowes, who own and run Rumford Inn in the small coastal mining village of Polvenon Cove. Her search for information about her birth parents brings Emily in contact with some rather unsavory characters. Chief among them is the tyrant mine owner, Philip Polvenon, who gasps when he sees Emily for the first time and forbids his son to see her. Nonetheless, a friendship develops between Emily and his son, and together they fight for the plight of the poor miners and their families.
Philip's son clashes with his own father as Emily strives to make life easier for a miner's family whose oldest daughter works as a bal maiden. Their daughter has been struck with an illness that may put their entire family at peril.
Philip's manservant has kept the mine owner's secrets for years and a disastrous encounter with Philip's son causes him to finally reveal all he knows.
124 page paperback, 5.75 x 8.75 inches
ABOUT THE AUTHOR - Amy J. Heyman
Amy Heyman lives in Sheboygan, Wisconsin. She is an ardent anglophile and works as a volunteer at her local library. She loves to garden and go for long walks along the Lake Michigan shoreline. She has been published in Our Wisconsin magazine. This is her first novel, which she started after visiting and falling in love with Cornwall in 1988.