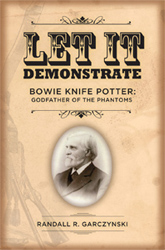 Let it Demonstrate
ISBN: 978-0-9899780-8-8
$19.95
John Fox Potter (1817-1899) was educated in the east and carved his idyllic homestead, "Lake Side Farm," from the Wisconsin wilderness. A community leader he was at the founding of the Republican party, and the first Republican, an abolitionist – Black Republican, to serve Wisconsin in the 1st Congressional District, a longtime Democratic stronghold. On the eve of the Civil War he battled the Southern "fire-eaters" on the floor of Congress with his oratory and his fists. Potter "scalped" a fellow congressman; leveled a future Supreme Court jurist; and when challenged, under thecode duello, for insisting that fellow abolitionist's views be heard – his choice of weapons was the infamous, and barbarous, "bowie knife." He was a man of action, and a man of introspection. He hosted progressive thinkers at his rural lakeside retreat; including Thomas Wentworth Higginson a radical clergyman who authored the vows attacking the concept of coverture for feminist Lucy Stone's wedding, and carried on a "correspondence" with Emily Dickinson for decades. After a brief, but tumultuous, service as a Consul to the Canadas, he retired to his "Lake Side Farm" and hosted a group of social and political thinkers and activists from Milwaukee – The Phantom Club.
364 page paperback, 5.75 x 8.75 inches
ABOUT THE AUTHOR - Randall Garczynski
Randall R. Garczynski — spent most of his adult and professional life in Walworth County, the home territory of John Fox Potter, and the geographic heart of Wisconsin's 1st Congressional District. He was born and educated in Wisconsin; received a BS in Education from the University of Wisconsin-Madison, with majors in History and philosophy, and JD in Law from Marquette University. He has taught at the secondary and collegiate levels, and as an attorney tried cases in State and Federal courts and argued before the Wisconsin Supreme Court. He has had articles published by the Wisconsin Bar Associations professional periodical and presented at a number of professional education seminars; including most recently one titled; "The Ethical Expert Witness — An Oxymoron?" He took a brief sabbatical from Wisconsin to pursue a Le Cordon Bleu Degree from the Scottsdale Culinary Institute, Arizona; plied his culinary skills as a chef at Deer Valley in Park City, Utah and work at various venues at the Sundance Film Festival. Upon return to Wisconsin Mr. Garczynski continues to practice law, representing professional educators in employment law matters and pursues his interest in local and regional history.