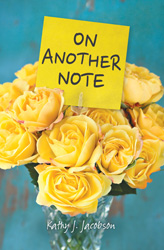 On Another Note
ISBN: 978-1-942586-14-2
$15.95
Jillian came within moments of leaving her home, employment-and John. He had shown up at the last minute, handing her notes which convinced her to stay and to give love one more chance. Will she be disappointed yet again-or has she found the right person to fall in love with this time? And could the one true constant love in Jillian's life throughout the years be in jeopardy?
John is no stranger to heartbreak, either. Is Jillian truly the right one for him, or will she tire of him like the women of his past? And what of his career in acting? Is it over after a two year hiatus stage and screen?
Find out the answers to these questions and more in Kathy J. Jacobson's second novel in the NOTED! series – On Another Note.
240 page paperback, 5.75 x 8.75 inches
ABOUT THE AUTHOR - Kathy J. Jacobson
Kathy J. Jacobson has worked in various forms of ministry over the past twenty years – from youth and Christian education coordinator, to campus ministry, rural parish ministry to hospice chaplain.
She lives in the beautiful "Driftless Area" of Southwest Wisconsin with her husband, Jeff. They have three "children" – all "twenty-something." She is an avid traveler, with most memorable trips to the Holy Land, Papua New Guinea, and Tanzania. She loves music, the theater, and sports, but her true passion is writing. On Another Note is her second "faithful fiction" novel.