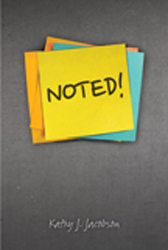 Noted!
ISBN: 978-1-942586-09-8
$15.95
Jillian Johnson has devoted more than two decades of her life to a career in nursing while also being a single mother to her daughter, Marty. Now that Marty is all grown up and pursuing a medical career overseas, Jillian makes the monumental decision to leave her home state of Wisconsin for a new life in Los Angeles. Her true passion is to become a professional writer, and with her mind on that goal, she takes a job as a household helper for the mysterious and reclusive Mr. Romano.
Shortly after arriving at his estate, Jillian is shocked to discover that her new employer is uniquely tied to her past. He was a huge, albeit unknowing, influence in her decision to attend medical school, the place where she engaged in an ill-fated romance with the man who would become her daughter's father.
Having survived this and other heartbreaks, Jillian is ready to open her heart to love again. There are certainly new men in her life, but none more intriguing than her employer, Mr. Romano. The fact that he stays hidden from Jillian and only communicates with her via brief and sometimes brusque handwritten notes only adds to the intrigue. Is he trying to hide something? Jillian doesn't know, but she becomes determined to find out more about this mysterious man and see if she can help him emerge from his reclusive shell. It soon becomes apparent that she has her work cut out for her, and it will take every ounce of patience, and faith, to meet this challenge.
220 page paperback, 5.75 x 8.75 inches
ABOUT THE AUTHOR - Kathy J. Jacobson
Kathy J. Jacobson is a graduate of the University of Wisconsin-Madison and Wartburg Theological Seminary, Dubuque, Iowa. She has worked counseling troubled youth, has been an at-home Mom, a church youth worker and Christian education coordinator, worked in campus ministry, and for the last twelve years, has served in rural parish ministry. In addition to her work in the church, she volunteers as a hospice chaplain. Kathy resides with her husband in the beautiful "Driftless Area" of southwestern Wisconsin. They are parents of three children, all "twenty-something." Kathy is an avid traveler, having visited forty-nine states and five continents, with most memorable trips to Papua New Guinea, the Holy Land, and Tanzania, East Africa. She enjoys music, theater, reading, biking, walking and hiking, but writing is her passion. This is her debut novel.