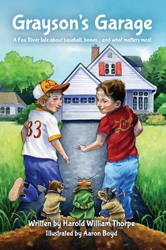 Grayson's Garage
Illustrated by Aaron Boyd
ISBN: 978-0-9899784-5-3
$14.95
Grayson's friend, Alex, needs an operation to fix his twisted foot. Then Alex could run fast, like the other boys on their baseball team. But Alex's family doesn't have the money for an operation. The Butte des Morts Lion's Club is raising money for Alex, but it's taking a long time. Grayson is impatient for his friend's foot to be better. He's impatient, too, for his dad to finish building their new garage, so he can play in it. Then, work on the garage stops after some bones are dug up that might be historical. Just when Grayson thinks he can't be patient any longer, his quirky new animal friends help dig up something else in the yard that might be worth a lot of money. Now, Grayson must make a decision. He can help Alex. Or, he can buy a new video game system, like his older cousin has. Which will he choose?
76 page paperback, 5.75 x 8.625 inches
ABOUT THE AUTHOR - Harold William Thorpe
Harold William Thorpe grew up in Southwest Wisconsin and lived in Mineral Point, Ridgeway, and Dodgeville before graduating from Barneveld High School. After high school, he earned an education degree from UW-Platteville. He then worked for eleven years in Janesville, Wisconsin — first as a general education and special education teacher, then the last four years as a school psychologist. During these years he started a business and earned a masters degree in educational psychology from UW-Madison. Afterward, he left Janesville for Utah State University where he earned a doctorate degree in education.
Upon returning to Wisconsin he took a position at UW-Oshkosh, where he initiated a program that prepared college students to teach children with learning disabilities. For the next twenty-five years he taught classes, supervised undergraduate and graduate student teachers, and served in administrative positions as a graduate program coordinator, a department chairperson, and a college associate dean. But his first love was conducting research that produced more than twenty-five publications in education and psychology journals.
He lives in Butte des Morts, Wisconsin, a small lakeside community near Oshkosh. Although he had published non-fiction books, upon retirement he decided to learn how to write fiction. He recently published Giddyap Tin Lizzie, Bittersweet Harvest, and his first children's chapter book, Wyatt's Woods, which is set in the woods surrounding his home in Door County, Wisconsin. He followed Wyatt's Woods with Aubrey's Attic, set in the historic community of Butte des Morts and Winneconne, the neighboring community where his granddaughter Aubrey attends school. Grayson's Garage is also set in Butte des Morts.