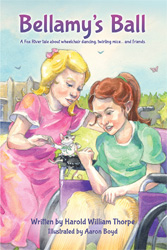 Bellamy's Ball
Illustrated by Aaron Boyd
ISBN: 978-1-942586-05-0
$14.95
Five-year-old Bellamy is excited for the upcoming Girl Scouts ball at the Butte des Morts Lion Club Hall. It will be a dance for fathers and daughters. But Bellamy's friend, Katie, is sad. Katie says she can't dance from her wheelchair. Bellamy's cousin, Aubrey, comes up with a plan to get Katie dancing, though she can't walk. And a surprise awaits them all that will make the ball extra special!
32 page hardcover, 5.75 x 8.625 inches
ABOUT THE AUTHOR - Harold William Thorpe
Harold Thorpe began his career teaching grade school children in Janesville, Wisconsin. Although he later taught middle school and college students, those grade school years were the most fulfilling and happiest of his professional life. Harold lives in Butte des Morts, Wisconsin, a small lakeside community near Oshkosh. He has published Giddyap Tin Lizzie, Bittersweet Harvest, and three children's chapter books, Wyatt's Woods, Aubrey's Attic, and Grayson's Garage. Bellamy's Ball is his first children's picture book.