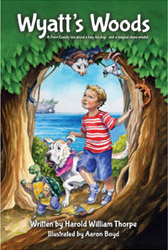 Wyatt's Woods
Illustrated by Aaron Boyd
ISBN: 978-0-9896431-3-9
$16.95
Three-hundred-and-fifty-years ago, a Potawatomi Indian boy named Red Eagle carved a small bear out of limestone. It was lost during a legendary battle at Fort Mechingan, somewhere deep in the woods of what is now Door County, Wisconsin. Although searchers have tried, no sign of the fort has ever been found. While spending the summer in Door County, a boy named Wyatt decides to look for it. Meanwhile, a Potawatomi boy named Robert listens to the story of his ancestor, Red Eagle. Robert wonders, too, what happened to the fort and the carving. Finding them will unforgettably connect Wyatt, Robert and Red Eagle. But as the summer draws to an end Wyatt has still not found the fort, despite lots of help from woodland animal friends and his loyal yellow lab, Bailey. Will Fort Mechingan – and the carved bear – remain buried forever in Wisconsin's Northwoods?
136 page paperback, 5.75 x 8.625 inches
ABOUT THE AUTHOR - Harold William Thorpe
Harold William Thorpe grew up in Southwest Wisconsin and lived on farms for brief periods when he was very young. He spent many happy hours at his relative's farms, and during his teen years he detasseled corn, worked two summers as a live-in farm laborer, worked one summer as a Surge milking machine sales and service man, and worked part of another summer as a United States Department of Agriculture field man.
After high school, he graduated from UW-Platteville with an education degree. He worked for eleven years in Janesville, Wisconsin — first as a general education and special education teacher, then the last four years as a school psychologist. During these years he started a business and earned a masters degree in educational psychology at UW-Madison. Afterward, he left Janesville for Utah State University where he earned a doctorate degree in education.
Upon returning to Wisconsin he took a position at UW-Oshkosh where he initiated a program to prepare students to teach the learning disabled. For the next twenty-five years he taught classes, supervised student teachers and graduate students, and served in administrative positions as a graduate program coordinator, a department chairperson, and a college associate dean. But his first love was conducting research that produced more than twenty-five publications in education and psychology journals.