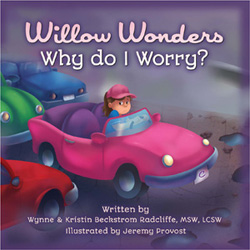 Willow Wonders, Why Do I Worry?
Illustrated by Jeremy Provost
ISBN: 978-0-9896431-2-2
$16.95
Willow Wonders is a children's picture book for children with anxiety and OCD. This book will inspire, guide, reassure, educate and support those children and the people who love them.
32 page hardcover, 8.5 inches
ABOUT THE AUTHOR - Wynne & Kristin Beckstrom Radcliffe
Wynne is an eleven-year-old sixth grader who deals with OCD and worry every day. She is a devoted and loyal big sister to her brother Kaeden. Wynne adores TaeKwonDo, playing school, and all things Harry Potter.
Kristin is a mom and social worker, currently in private practice. She has worked in a variety of social services settings in her career, including schools, military facilities and child protection agencies. Kristin fiercely loves her own kiddos and her husband, but also loves sharing her gifts with countless others.
AWARDS
IBPA Benjamin Franklin Award Finalist
2013 Moonbeam Children's Book Award Gold Medalist