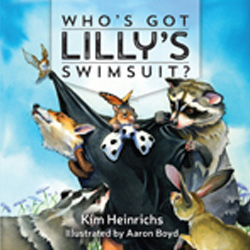 Who's Got Lilly's Swimsuit
Illustrated by Aaron Boyd
ISBN: 978-1-942586-11-1
$17.95
What would a raccoon want with a swimsuit? Follow the adventures of Lilly's missing suit after it disappears from Grandma's deck. Follow its trail through the woods. Will Lilly's suit find its way back home? And how?
36 page hardcover, 8.5 x 8.5 inches
ABOUT THE AUTHOR - Kim Heinrichs
Kim Heinrichs resides in Belmont, Wisconsin with her husband Ken. They raised their three children in the home they built in the woods. They have four grandchildren and another expected soon.
Kim retired after teaching elementary school for 34 years. She is a prairie and nature enthusiast, and helps maintain the prairie at the Belmont School. She enjoys substitute teaching and getting classes outside to learn about the world around them.
Kim also enjoys quilting, reading and travel. Her greatest joys are her grandchildren and family.