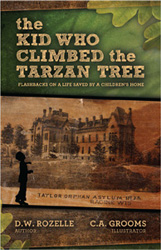 The Kid Who Climbed the Tarzan Tree
Illustrated by C.A. Grooms
ISBN: 978-0-9896431-5-3
$15.95
It's 1944.
A little boy and his sister find themselves the wards of strangers in a cavernous children's home. Their mother assures them that their stay will be but a few months. Nearly six years later what they thought was to be a "stay" ends with their placement in a foster home. While this sounds like a chapter written by Charles Dickens in one of his darker moods, it isn't. Looking back after a half century, that "little boy," D.W. Rozelle, remembers his years at "the Home" as the best years of his tumultuous boyhood. Over 25 drawings by distinguished artist C.A. Grooms lend Rozelle's flashbacks a startling visual impact.
120 page paperback, 5.75 x 5.75 inches
ABOUT THE AUTHOR - D.W. Rozelle
David William Rozelle lives in retirement with his wife Judith, a plant scientist, in Wisconsin's Wyoming Township near Spring Green. Following his boyhood at Taylor Home and in a rural foster home, he earned an undergraduate degree at Wisconsin State College-Whitewater and did graduate work at universities in both Colorado and California.
Rozelle's accomplishments as a young University of Wisconsin System faculty member won him a Fulbright grant in 1971-72. Posted to Denmark, he taught American literature at five Danish colleges.
Since 1973, his resume has included positions as associate director of an antipoverty agency, community services director of a large rural mental health center, and assignments as freelance writer and creative consultant for a number of public education programs, often in the field of preventive mental health.
A published poet, essayist and former guest political columnist, Rozelle has for years collaborated as "poet in residence" with his distinguished artist friend Christian Andrew Grooms on events for Paoli House Gallery in Wisconsin. Grooms, who is the gallery's artistic director, graciously volunteered to be this book's illustrator.
The Kid Who Climbed the Tarzan Tree represents Rozelle's long-delayed written celebration of his six years as a "kid from the Home." His deepest gratitude goes out to his wife Judith and friend Christian for not only believing in this work but also making it an immeasurably better one. He is honored by their presence in his life and in the book's publication.