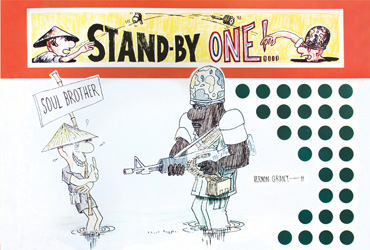 STAND-BY ONE!
Illustrated by Cartoons and Writings by Vernon Grant
ISBN: 978-1-942586-06-7
$9.95
In 1969, Vernon Grant drew upon his ten years of Army life to create single-panel cartoons for his book, STAND-BY ONE The topics range from preparing for and engaging in combat, sexual themes, references to the Viet Cong, and weather and terrain of Vietnam. The humor is universal, even to civilians, and will bring laughter to service people of all eras.
76 page paperback, 8.5 x 5.75 inches
ABOUT THE AUTHOR - Betsy Grant
Betsy Reese Grant studied at both the University of Wisconsin in Madison, Wisconsin and Sophia University in Tokyo, Japan in 1971, where she met Vernon E. Grant. After Betsy received a B.A. in History in 1973, they returned to live in Cambridge, Massachusetts. They were married in 1978. In 1991, Betsy wrote a booklet about her great-grandfather, The Bennett Story – The Life and Work of H.H. Bennett. Beginning in 1972, Betsy began running with Vernon and they ran in many road races together. Betsy sold health club memberships for twenty seven years. Vernon passed in 2006. Betsy moved back to Wisconsin Dells in 2011. After working to organize Vernon's work, Betsy published Adventures of Point-Man Palmer in Vietnam in November of 2014 Her goal is to make Vernon Grant's work more widely available to historians and Vietnam veterans and the reprint of STAND-BY ONE! is one more step to make that dream a reality.