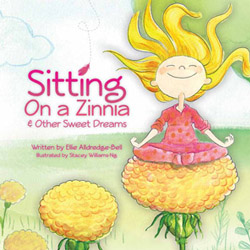 Sitting on a Zinnia & Other Sweet Dreams
Illustrated by Stacy Williams-Ng
ISBN: 978-0-9849245-8-5
$16.95
No need to fear the dark when lights out is the gateway to uproarious adventure. Bedtime is the best part of the day, a girl muses as she drifts off to a succession of fanciful destinations. Some are Zen-like: serenely sitting, yoga-style atop a prairie flower. Most are laugh aloud absurd, involving waltzing fettuccini, underwear clad monkeys, marshmallow wigs and bathtubs full of pigs. Bell, a longtime teacher, taps a deep well of imagination, carrying young readers to silly, kid-pleasing places. Williams-Ng, contributes a whimsical style that compliments and elevates the text. A few of the illustrations, the cover choice in particular, shine in their showcase of the artist's skill. Delightfully ridiculous.
32 page hardcover, 8.5 x 8.5 inches
ABOUT THE AUTHOR - Ellie Alldredge-Bell
Ellie Alldredge-Bell is a dreamer. As a teacher in Oak Park, Illinois for thirty-three years, she was inspired by students living their dreams. Her dreams have taken her on a unique life journey. Ellie currently lives in Madison, Wisconsin with her husband and cat. In her free time, Elllie loves to read, paddle her kayak, golf, garden, play the piano and ukulele, and play word games. She loves to spend time with her large family and friends. She still dreams.
AWARDS
2013 Moonbeam Children's Book Award Silver Medalists