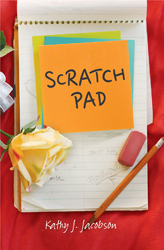 Scratch Pad
ISBN: 978-1-942586-21-0
$15.95
Jillian thought things couldn't get worse than John working on his last film with Monica Morgan, but his new co-star puts that notion to the test. Marty has had her future planned out since childhood, but Michael has other ideas.
Tommy and Maria are learning to adjust to her booming business and a changing household, when his work associate creates new complications in their relationship. Greta is ready to graduate and begin her dream job, but a surprising situation rattles her and Drew's lives.
Robert and Karen are ready to adopt, but will an unexpected incident get in the way? Nancy and Buck have settled into a comfortable life together, until a visit to the Esperanza Workshop brings someone new into their world. And Monica Morgan thinks her family is coming back together, only to be shocked when her son makes the biggest mistake of his life.
Life is full of twists and turns, disappointments and joys, the expected and the completely unexpected. Join these characters, and others, as they navigate these challenges in Scratch Pad, the fourth book in the Noted! series.
228 page softcover, 5.75 x 8.75 inches
ABOUT THE AUTHOR - Kathy J. Jacobson
Kathy J. Jacobson has worked in various forms of ministry over the past twenty years–from youth and Christian education coordinator, to campus ministry, rural parish ministry to hospice chaplain.
She lives in the beautiful "Driftless Area" of Southwestern Wisconsin with her husband, Jeff. They have three "children"–all "twenty-something." She is an avid traveler, having visited all fifty states, with most memorable trips to the Holy Land, Papua New Guinea, and Tanzania. She loves music, the theater, hiking and the Wisconsin Badgers, but her true passion is writing. Scratch Pad is the fourth book in the Noted! "faithful fiction" series.