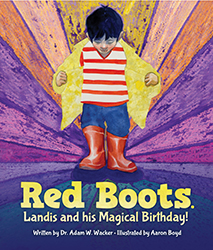 Red Boots. Landis and his Magical Birthday
ISBN: 978-1-942586-33-3
$17.95
When Landis chooses shiny, red rainboots for his birthday present, instead of a toy; he had no idea what would happen next.
Landis had always wondered what it would be like to talk to animals, and on his birthday he gets more than he ever imagined.
Join Landis on an adventure of learning. As the animals share the gifts of wisdom, respect, and the laws of attraction; Landis discovers how love and visualization are the most powerful tools in the universe.
36 page hardcover, 8.5 x 10 inches
ABOUT THE AUTHOR - Dr. Adam Wacker
Adam grew up with a loving family on a small rural farm in SW Wisconsin. He enjoyed being around nature and all the animals, and would often daydream that he could talk with them. As he grew older he knew that he wanted to help others in a natural, healthy way; so he went on to become a Doctor of Chiropractic. He's a proud graduate of Palmer College of Chiropractic, and currently owns Lancaster and Bloomington Wellness Centers, in Southwest, WI. He enjoys serving his community as a chiropractor but also as a life mentor, and teaches courses on personal empowerment and the mind-body connection.
Through his years of learning he discovered how important it is to educate children of the wonders and magic of this world and the importance of being kind to everyone including themselves. He decided to use animals as the teachers of unconditional love to share their knowledge of the Universe with children and adults alike.
This book first in its' series has a wonderful message and beautiful artwork that will inspire and fill you with gratitude and joy.