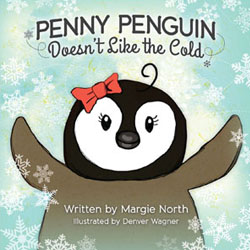 Penny Penguin Doesn't Like the Cold
Illustrated by Denver Wagner
ISBN: 978-0-9899780-0-2
$16.95
Penny the Penguin doesn't like the cold. But with encouragement from her mother and her friend Peter, Penny learns that sometimes new experiences and adventures can be fun, even if we aren't expecting them to be.
36 page hardcover, 8.5 x 8.5 inches
ABOUT THE AUTHOR - Margie North
Margie lives in Darlington, Wisconsin with her husband Bill, where together they raised their five children. She enjoys spending time with her family, especially her grandchildren who are always willing to listen to her stories.