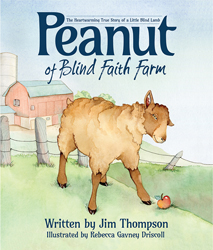 Peanut of Blind Faith Farm
ISBN: 978-1-942586-27-2
$15.95
Meet Peanut, a tiny lamb born on a farm one summer. The farmers, Jim and Laura, soon noticed that Peanut was different than other lambs. She stayed close to her mother and showed no interest in playing with the other lambs. She bobbed her head and appeared to be listening to even the smallest of noises. That's when Jim and Laura realized: Peanut had been born blind. How would she survive? This is the joyful and true story about how a lamb overcame a lot of hard challenges to become a happy and healthy member of her flock. And she also became the star of Blind Faith Farm.
32 page softcover, 9 x 10 inches
ABOUT THE AUTHOR - Jim Thompson
Jim Thompson and his wife Laura, live on a hobby farm in Jefferson County, Wisconsin. An Air Force veteran, Jim returned to Wisconsin in 1983, and graduated from the University of Wisconsin-Milwaukee with a degree in Zoology. He spent the next 20 years with the Wisconsin Department of Natural Resources, mostly as a Lake Michigan Fisheries Technician. Semi-retiring in 2007, he "took up hobby farming." Not long after, he and Laura acquired five Shetland sheep as an experiment, to help keep the farm s vegetation under control, with thoughts of also producing fine Shetland wool for Laura's knitting and spinning hobbies. The flock of five soon turned to 15; including a tiny blind lamb named Peanut, who inspired Jim and Laura to name their property Blind Faith Farm. The farm produces mostly Shetland wool and Blind Faith s fleeces have garnered numerous awards. Jim has two children, Erika, a teacher in Homer, Alaska and Michael a biomedical technician at Children's Hospital in Milwaukee. Aside from tending to farm chores, his other pursuits include fishing but rarely catching, and admiring whitetail deer. The rest of his spare time is spent planning his next trip to Alaska, researching the perfect grilled halibut or salmon recipe, and just hanging out doing anything with Michael.
REVIEWS
"Peanut of Blind Faith Farm is a delightful book for adults and children alike. In a world with many competing views and values, the true story of Peanut reminds us of the significance of basic virtues including wisdom, courage, and love."
"Introducing children including very young children to stories whose characters have physical or mental challenges, especially when the framing is healthy and positive, helps expand their concept of "normal" and exposes them to a wider array of experiences, building empathy and acceptance."