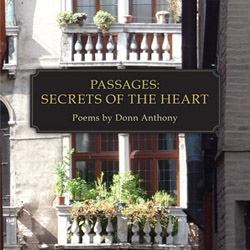 Passages: Secrets of the Heart
ISBN: 978-0-9899784-8-4
$19.95
Writing… to express in words what is on our minds or in our hearts can lead us to inner places we hardly knew were there. One of the most satisfying aspects of writing is that it can open in us deep wells of hidden treasures that are beautiful for us as well as for others to see and experience.
To get in touch with the deeper stirrings of our hearts, to clarify our minds, to process confusing emotions, to reflect on our experiences, to give artistic expression to what we are living, and to store significant events in our memories.
76 page hardcover, 7 x 7 inches
ABOUT THE AUTHOR - Donn Anthony
This is Donn Anthony Hoffmann's first published work. He is writing a second book on faith and spirituality titled, Passages: Inspirations Of The Heart.
Close friends and family bring comfort and pleasure to his life. Being with people who are true to themselves and others. An avid reader and writer, who enjoys smooth jazz, healthy food, exercise, the outdoors, movies, photography, wine and travel.