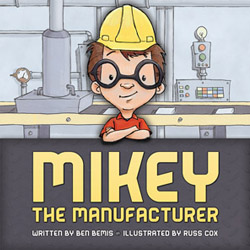 Mikey the Manufacturer
Illustrated by Russ Cox
ISBN: 978-0-9899784-9-1
$15.95
Excitement fills the air for Professional Day in Ms. Honeydew's classroom. The children come dressed as a dentist, a firefighter, an airline pilot… and a manufacturer. A what? Join the class on a field trip inside a manufacturing plant where people bend metal, wield lasers, and operate robots to make the things we rely on every day!
36 page hardcover, 8.5 x 8.5 inches
ABOUT THE AUTHOR - Ben Bemis
Ben Bemis was born one of six children and fully appreciates the value of family, which he believes is the cornerstone of our society. In his everyday role as a commercial banker he has the pleasure of working with various companies in the manufacturing industry. Ben holds a Bachelor's of Science degree from University Wisconsin – La Crosse, where he was a four year letter winner on the men's basketball team. After college, Ben met his amazing wife Lynsey and they are building their family in Wisconsin.