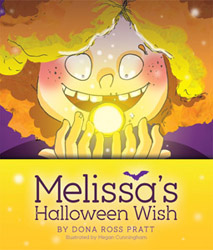 Melissa's Halloween Wish
Illustrated by Megan Cunningham
ISBN: 978-0-9849245-7-8
$17.95
"Abba, shabba; wabba, woo; dibble, dabble; rabble, roo." It's Melissa Witch's favorite time of year. It's Halloween! When Melissa and her classmates learn to fly, adventures wait for them around every cloud. Their goal is to find the fantastic wish charm, but will Melissa be able to escape Grumpy Gretchen Witch? Join Ollie Owl, Snappy Squirrel, and their friends as they help Melissa make this the most memorable Halloween ever.
36 page hardcover, 8.5 inches
ABOUT THE AUTHOR - Dona Ross Pratt
Dona grew up in Brodhead Wisconsin in a family of eight children. Upon her graduation from Brodhead high school she furthered her education at the Whitewater State Teachers College. She graduated with a degree in kindergarten and primary education. She taught in Columbus, Beloit and Fox Point Wisconsin before moving to Edgerton, where she and her husband Dr. Francis Ross, raised their family of four children.
Her true commitment was to family and for years she maintained her love of teaching by being a substitute teacher in the School District of Edgerton. In 1984 Dona decided to open a creative arts preschool that she managed and taught in for fifteen years. She thoroughly enjoyed watching children develop a love of learning, along with creatively expressing themselves through art and music. It was during this time she was inspired to begin writing this book.
AWARDS
IBPA Benjamin Franklin Award Finalist
2013 Moonbeam Children's Book Award Gold Medalist