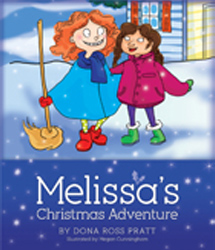 Melissa's Christmas Adventure
Illustrated by Megan Cunningham
ISBN: 978-1-942586-08-1
$17.95
"Magic stardust, sprinkle down, softly, softly all around!" It was Christmas Eve, the most magical night of the year! Good little witch Melissa was riding her broom through the snow-covered woods when she came across an unbelievable sight: a spectacular red and gold sleigh overturned in the snow. Were those reindeer nearby? And who was the man in the red suit? He had bumped his head and needed her help. Melissa had no time to waste. She pulled some magic stardust from her pocket. With her friends Ollie Owl and Snappy Squirrel lending a hand, it would be up to Melissa to rescue Christmas.
36 page hardcover, 8.5 x 10 inches
ABOUT THE AUTHOR - Dona Ross Pratt
Dona grew up in Brodhead Wisconsin in a family of eight children. Upon her graduation from Brodhead high school she furthered her education at the Whitewater State Teachers College. She graduated with a degree in kindergarten and primary education. She taught in Columbus, Beloit and Fox Point Wisconsin before moving to Edgerton, where she and her husband Dr. Francis Ross, raised their family of four children.
She has been an avid lover of children's literature for years and spent countless hours reading books to children in school, her own children at home and her grandchildren. She feels that reading books fosters children's imaginations and helps inspire them to learn.