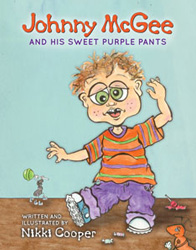 Johnny McGee and His Sweet Purple Pants
Illustrated by Nikki Cooper
ISBN: 978-0-9899780-6-4
$18.95
Johnny McGee has a GIGANTIC sweet tooth. So much so, that an army of ants invaded his favorite purple pants! Follow Johnny's adventures as he discovers what he must do to get rid of his pesky problem.
32 page hardcover, 8.5 X 11 inches
ABOUT THE AUTHOR - Nikki Cooper
Nikki Cooper lives on a farm in southwest Wisconsin in the little town of Wiota, with her husband, three children and lots of animals. She began drawing cartoons for her local paper at the age of 16 and continued as she attended college. She obtained degrees in animal science and agricultural education from the University of Wisconsin-Platteville. Nikki's love of animals and passion for art has served her well in her current occupation as an artist. She creates comical fabric mache sculptures from recycled materials, which she likes to call Nik-er-Doodles. Nikki also enjoys teaching art to children and adults alike. She works out of the Green Chicks Studio in Monroe, Wisconsin.