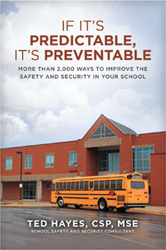 If it's Predictable, it's Preventable
ISBN: 978-0-9896431-6-0
$18.00
This book belongs on the desk of every school administrator in your school district. You notice I said "desk!" Don't put it on a book shelf or tuck it away in your personal office library. Have it ready to be used and refer to it often. It should be handy at a second's notice, and if your district has an assigned reading program for its administration and staff, this book should be a mandatory read. It covers virtually every safety and security issue that a school district may encounter.
This book not only guides the school administrator through many of the safety and security issues that he/she may encounter, it also gives specifics of what the school's plan should be for dealing with the many challenging safety and security issues that may occur.
GET THIS BOOK… READ IT and SHARE IT WITH EVERY MEMBER OF YOUR ADMINISTRATIVE TEAM!
~ Doug Linse, Business Manager, Watertown (WI) School District
376 page paperback, 5.5 x 8.5 inches
ABOUT THE AUTHOR - Ted Hayes
For the past 27 year, Ted Hayes has served as a safety and security consultant to school districts and municipalities in Wisconsin and through out the United States. From 1994 to 1996, Ted served as the president of the Wisconsin School Safety Coordinators Association (WSSCA). Currently, Hayes is a member of the Wisconsin Association of School Business Officials (WASBO) Safety and Risk Management Committee. He continues to author articles on school safety, security, and violence prevention and consult with school districts and municipalities thoughout Wisconsin.