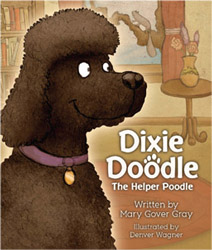 Dixie Doodle the Helper Poodle
Illustrated by Denver Wagner
ISBN: 978-0-9896431-8-4
$15.95
Dixie Doodle's last visit to the Senior Center didn't go so well. Can she redeem herself this time? Follow the adventures of this sweet, spirited poodle as she tries to help out her senior friends as only a curious pooch can do!
32 page paperback, 8.5 x 10 inches
ABOUT THE AUTHOR - Mary Gover Gray
Mary Gover Gray, a native of Mattoon, Illinois, has lived her adult life in the Waukesha, Wisconsin area. She taught elementary school while raising her son, Nathan. Mrs. Gray combines her passion for training standard poodles for therapy dog work with visits to the senior citizens in her community. Dixie Doodle's fun personality remains in the hearts of those who knew her.