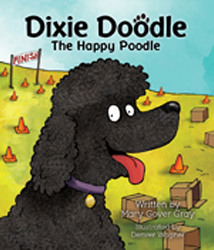 Dixie Doodle the Happy Poodle
Illustrated by Denver Wagner
ISBN: 978-1-942586-12-8
$15.95
Dixie Doodle was a happy and helpful poodle. Did the children need her help during the Field Day fun? In this second Dixie Doodle adventure, find out what the parents and children at Letterfield School learn from this black standard poodle.
32 page paperback, 8.5 x 10 inches
ABOUT THE AUTHOR - Mary Gover Gray
Mary Gover Gray, a native of Mattoon, Illinois, has lived her adult life in the Waukesha, Wisconsin area. She spent many years teaching in the primary grades in Wisconsin. Ms. Gray has an adult son, Nathan, and family in the Milwaukee area. Dixie, her standard poodle, was trained as a therapy dog and enjoyed obedience training as well. Memories of her school's special Field Day has been captured in her second story of Dixie Doodle.