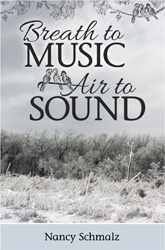 Breath to Music, Air to Sound
ISBN: 978-1-942586-25-8
1-942586-25-6
$10.95
These poems were written over a span of thirty years. They reflect my fascination with the quirky humor of everyday experience as well as my interest in the deeper significance of ordinary events. My inspiration comes from the many colorful characters, human and otherwise, that populate my waking and sleeping hours.
56 page softcover, 5.75 x 8.75 inches
ABOUT THE AUTHOR - Nancy Schmalz
Nancy Schmalz is a musician, gardener, teacher and knitter. Nancy and her husband Peter, after spending many years in Oshkosh raising their family and teaching young musicians, now live in a small historic house in Wisconsin's Driftless Area. Nancy and Peter have three grown children, Brian, Daniel, and Heidi, and three granddaughters, Greta, Deanna, and Ada.