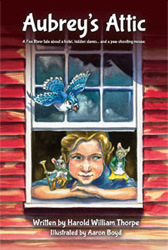 Aubrey's Attic
Illustrated by Harold William Thorpe
ISBN: 978-0-9899780-1-9
$16.95
Nine-year-old Aubrey has won the lead in a history play about her hometown of Butte des Morts, Wisconsin. Mystery and adventure follow as Aubrey digs for a costume in the attic of an old hotel called the Trading Post. Nearly 200 years earlier, escaped slaves were hidden in the hotel. The Trading Post was a stop on the Underground Railroad that helped slaves travel to freedom in Canada. Grandma Carver, an ancestor of Aubrey's new friend, Tilisha, was an escaped slave who might have hid in Butte des Morts before disappearing without a trace. Does the attic hold the key to what happened to her? Can friendly attic mice help the girls find the answer? When a ferocious owl steals an important clue, the girls, mice, and a gaggle of zany birds must work together to retrieve it. Will they succeed? Or will Grandma Carver's fate remain a mystery forever?
100 page paperback, 5.75 x 8.625 inches
ABOUT THE AUTHOR - Harold William Thorpe
Harold William Thorpe grew up in Southwest Wisconsin and lived on farms for brief periods when he was very young. He spent many happy hours at his relative's farms, and during his teen years he detasseled corn, worked two summers as a live-in farm laborer, worked one summer as a Surge milking machine sales and service man, and worked part of another summer as a United States Department of Agriculture field man.
After high school, he graduated from UW-Platteville with an education degree. He worked for eleven years in Janesville, Wisconsin — first as a general education and special education teacher, then the last four years as a school psychologist. During these years he started a business and earned a masters degree in educational psychology at UW-Madison. Afterward, he left Janesville for Utah State University where he earned a doctorate degree in education.
Upon returning to Wisconsin he took a position at UW-Oshkosh where he initiated a program to prepare students to teach the learning disabled. For the next twenty-five years he taught classes, supervised student teachers and graduate students, and served in administrative positions as a graduate program coordinator, a department chairperson, and a college associate dean. But his first love was conducting research that produced more than twenty-five publications in education and psychology journals.