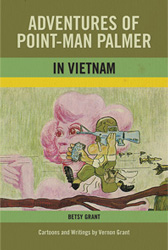 Adventures of Point-Man Palmer in Vietnam
Illustrated by Cartoons and Writings by Vernon Grant
ISBN: 978-0-9899784-6-0
$15.95
Adventures of Point-Man Palmer in Vietnam is Vernon Grant's story about U.S. Army life in the 1960s as told through his cartoons with his unique sense of humor. Grant's biography opens the book. Illustrations include cartoons drawn for the Pacific Stars and Stripes and his OCS Classbook, as well as a previously unpublished cartoon story about the need for radios for the foot soldier. The book concludes with selections from Stand-By One! and the complete book of Point-Man Palmer and His Girlfriend "Invisible Peppermint" Vietnam.
156 page paperback, 5.75 x 8.75 inches
ABOUT THE AUTHOR - Betsy Grant
Betsy Reese Grant grew up in the small friendly tourist town of Wisconsin Dells, Wisconsin. Her parents were Jean Dyer Reese and Oliver Reese Jr., and she had two sisters, Debbie and Lisa. She played trumpet and sang in chorus, was a Girl Scout, and canoed and hiked along the Wisconsin River. Betsy enrolled in classes at the University of Wisconsin-Madison in 1968. A judo class on campus taught by a Japanese businessman created the desire to spend a year studying in Japan. Meeting Vernon Grant in Tokyo at Sophia University in 1972 began a new chapter of her life.
In 1973, Betsy received a B.A. in History and she and Vernon returned to the U.S.A. by moving to Cambridge, Massachusetts, Vernon's home town. They were married in 1978. Vernon encouraged her to write, and in 1991, Betsy wrote the booklet about her great grandfather, The Bennett Story – The Life and Work of Henry Hamilton Bennett. Vernon taught her how to run, and they loved exploring new places on foot, and running in races together. Her new found fitness led to a career in selling health club memberships that Betsy pursued for twenty seven years. Travel became a major pastime for the Grants. Numerous trips to Wisconsin, trips to the Caribbean, to Barbados, and three trips on the Delta Queen steamboat on the Mississippi River brought Betsy and Vernon much happiness. After Vernon passed in 2006, Betsy stayed in the Cambridge area until 2011. She then moved back to Wisconsin Dells to be with her family. She worked on organizing Vernon's writings and cartoons. Adventures of Point-Man Palmer in Vietnam has enabled Betsy to begin to fulfill her dreams of becoming a writer and exposing Vernon's work to new audiences.