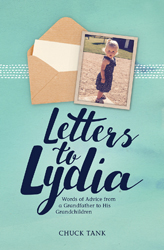 Letters to Lydia
ISBN: 978-1-942586-30-2
$17.95
Today's world can be confusing to young people. They are confronted by all types of issues and people as they grow to adulthood. Letters to Lydia is one grandfather's attempt to impart his thoughts on many issues including education, sports, and relationships to his grandchildren. "Never forget who you are and where you came from" is only one example of the many words of wisdom Chuck Tank gives to his grandchildren.
208 page paperback, 5.75 x 8.75 inches
ABOUT THE AUTHOR - Chuck Tank
Chuck Tank has taught history for thirty-nine years, most of that time at Dodgeville High School where he became a Hall of Fame basketball coach. He is the author of Coaching Our Sons, stories of basketball coaches who had their own children on their teams. Chuck and his wife of thirty-eight years, Becky, live in Dodgeville, Wisconsin, and are the parents of three, Wes, Alli Klein, and Ann Alleman. Lydia Alleman is their first grandchild.