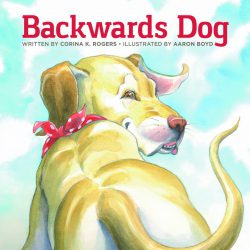 Backwards Dog
ISBN: 978-1-942586-24-1
$17.95
Charley wasn't the usual stick catchin', ball fetchin', throw caution and your head out the window kind of dog, but when his friends caught him napping with CATS, that was too much. After some deep, down dog reflection, they realized what Charley had always known – he was a Backwards Dog and that was ok.
Children, parents and dogs the world over will enjoy Charley's approach to life and appreciate that it is our differences that create our glorious harmony.
40 page hardcover, 8.5 x 8.5 inches
ABOUT THE AUTHOR - Corina K. Rogers
Corina Rogers is a high school social studies teacher and lives in the only Waunakee in the world with her husband, three teenagers and their British Lab, named Charley. Backwards Dog is her first published children's book. Charley is thankfully not the only Backwards Dog in the world and looks forward to treats and bringing joy to all those he meets.
REVIEWS
A dog who marches to his own drummer tries conforming in this debut picture book.
All the dogs of Harmony Street act in a normal and proper way except for one: Charley. In defiance of canine custom, Charley sticks his rear out the car window rather than his head; he runs in triangles, not circles; and instead of playing catch in the park, he heads home to nap—"with CATS!" Charley's friends wonder why he can't act like the rest of them. But Charley just replies, "You say forwards, I say backwards. It's not right or wrong, wrong nor right. We are just different, you see. And I'm just happy being me." But Charley's friends walk away (CATS!), and he decides that maybe he should try acting like other dogs. When he does, though, things work out badly. But finally, his friends return: "As long as you're happy, what else is there?" To prove it, they all walk Charley home—backward. Rogers' book effectively reads as a metaphor for autism or any condition that sets kids apart from the majority. Charley has good reasons for doing things the way he does, and the author wisely doesn't demand that he ultimately conform or reveal some acceptance-earning supertalent. The slightly exaggerated realism of the illustrations by Boyd (Calling the Water Drum, 2016, etc.) does a superb job of showing the dogs' personalities while adding much liveliness and humor.
A charming, amusing, and sweet canine tale about difference and friendship.