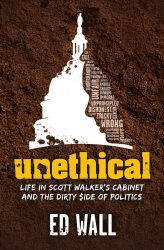 Unethical. Life in Scott Walker's Cabinet and the Dirty Side of Politics
ISBN: 978-1-942586-43-2
$8.99
For anyone interested in Wisconsin politics during the Walker Era, this book is a must read. Ed Wall tells how he came to Wisconsin to be with his wife's family and continue his career in law enforcement, where he rose to become the respected leader of the Wisconsin Division of Criminal Investigation. Although he had no political connections or affiliations, Wall was chosen by Democrat Governor Jim Doyle to head the state Division of Emergency Management and was then chosen by Republican Governor Scott Walker to lead the state's largest cabinet agency, the Department of Corrections. It was there, in Walker's cabinet, where Wall saw, up close and personal, the self-serving, unethical actions of Walker and Attorney General Brad Schimel. Along the way, you'll find out fascinating inside details about the Act 10 protests, the John Doe investigations, Walker's obsession with avoiding public records, his failed presidential bid, and Schimel's bungling of the Lincoln Hills investigation. This is a revealing and harrowing account of life at the highest levels of the Walker administration and the difficult, life-altering lessons learned along the way.
240 page softcover, 5.75 x 8.75 inches
ABOUT THE AUTHOR - Ed Wall
Ed Wall was a 32-year career public safety professional, having served as a police officer in Meriden, Connecticut, a state trooper in New Hampshire, and a special agent and then special agent in charge of the Wisconsin Division of Criminal Investigation.
Before he became administrator of that division. Additionally, Ed was appointed by Democratic Governor Jim Doyle as the administrator of Wisconsin Emergency Management and was later appointed cabinet secretary of the Wisconsin Department of Corrections by Republican Governor Scott Walker. Ed has been married to his wife, Debi, since 1990, and they have three children: Caitlin, Emily, and Ryan.
REVIEWS
"This book is full of interesting insights that only insiders would know. The reader learns how the government works and doesn't work. It breaks down mostly by misfeasance not malfeasance."
"A touching, insightful story for those who wonder how Wisconsin's reputation for clean, honest, and professional government slipped away."