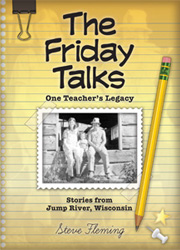 The Friday Talks, One Teacher's Legacy, Stories from Jump River, Wisconsin
ISBN: 978-0-9828023-8-0
$14.00
In the fall of 1990, at the age of forty, I started teaching high school art. It soon became apparent that having a personal connection with my students was important in creating teachable moments. So I started telling stories about my three children. My students loved hearing life stories and of my experiences as a stay at home dad.
And so the Friday talks developed over time. They became about being aware. I encouraged my students, with stories, to think more carefully about themselves and others. To search for clues about what was happening around them.
88 page paperback, 5.25 x 7.25 inches
ABOUT THE AUTHOR - Steve Fleming
Steve Fleming was born in Manhattan, Kansas. He married Mary Flynn in January, 1971. They moved to northern Wisconsin, near Jump River, in October, 1973 with their young daughter, Annaliese. They had two sons, Jonathon and Brendan. Steve finished a BFA in 1979 at Mount Senario College and then returned to earn a teaching certificate. Steve taught at South Saint Paul High School. In 2004, he completed a Masters degree in a liberal arts program combining writing and art making at Hamline University in St. Paul, Minnesota. Now retired, he is rehabbing the almost-100-year old Ladies Aid Hall in Jump River, Wisconsin.