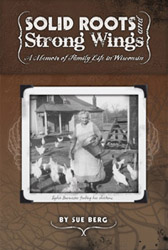 Solid Roots and Strong Wings, A Memoir of Family Life in Wisconsin
ISBN: 978-0-9849245-0-9
$19.95
Sue Berg traces her family history from immigration to the present day. Included in the book are insights from Sue's paternal grandmother, Annie Luepke, about early life in the Glenwood City area. This book is filled with photographs, anecdotes, recipes, and personal insights into family life. With humor and candid revelation, the author recalls the experiences of growing up in a close-knit family with parents who passed on a strong heritage of good cooking, music, humor and spiritual training.
148 page paperback, 6 x 9 inches
ABOUT THE AUTHOR - Sue Berg
Sue (Luepke) Berg was born and raised in Glenwood City, Wisconsin. She graduated from high school and continued her education at UW-Eau Claire and UW-LaCrosse, earning a Bachelor of Music Education and a Master's degree in Education and Personal Development. She raised a family of three sons and one daughter and she has three grandchildren. Her husband, Alan, has been a source of love, strength, and encouragement through 34 years of marriage. Currently, she is a 5th grade teacher at Viroqua, Wisconsin. In her spare time, she enjoys watercolor painting, reading, writing, babysitting her grandchildren and cooking. She is currently at work on a mystery book for middle aged children.