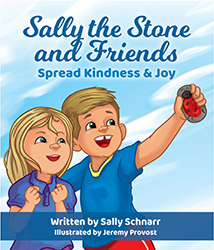 Sally the Stone and Friends Spread Kindness and Joy (Hardcover)
ISBN: 1-942586-36-1
978-1-942586-36-4
$19.95
This children's storybook follows the journey of one small stone picked up by a child, gently washed and painted, then hidden for another child to find. Finding Sally the Stone brings such joy to this little boy that he gathers his friends to paint other stones to hide at various animal exhibits at the local zoo. While hiding these newly painted stones, the children learn about kindness, sharing, and friendship. As the story concludes, learn how these beautiful acts of kindness and sharing come full circle.
You will enjoy the colorful, whimsical illustrations as the book captures the wonders of childhood. Perhaps you might start painting and hiding your own stones to join in this global movement.
"It takes a world of those being kind to show the world how to be kind, one small stone at a time."
~Sally Schnarr
32 page hardcover, 8.5 x 10 inches
ABOUT THE AUTHOR - Sally Schnarr
Sally Schnarr was born and raised in Madison, Wisconsin. As a mother of three and grandmother of five, Sally knows firsthand the excitement of childhood learning. She has been painting and hiding her own creations and watching with amazement at its rapid worldwide growth. She came up with the idea in a dream and brought that dream to life for everyone to enjoy. She chose a local zoo as her setting, where she has spent hours exploring with her son, Michael Jr.
A former Xerox sales executive, Sally learned firsthand the ways of the marketplace and understands how to create and market a special product.
As a master gardener, she has designed living gardens filled with color and texture. She would photograph her flowers and turn an ordinary note card into a floral bonanza.
Sally's personality is contagious, her energy endless, and her dreams are filled nightly with new adventures for Sally the Stone. Embrace the color, texture, giggles, and joy, and join this author on her mission of putting a Sally the Stone in every child's hand.