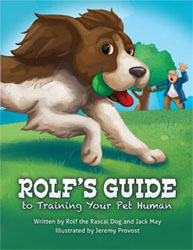 Rolf's Guide to Training Your Pet Human
Illustrated by Jeremy Provost
ISBN: 978-0-9899784-3-9
$17.95
Woof! My name is Rolf.
English Springer Spaniel, Rolf has spent the last twenty-eight years living with humans. After all that time, Rolf believes he knows everything there is to know about training his human pet "Grumpy." Join Rolf as he shares his favorite training methods with you. Woof woof!
36 page hardcover, 8.5 x 11 inches
ABOUT THE AUTHOR - Jack May
Jack May was born and raised in Mineral Point, Wisconsin. He attended the University of Wisconsin-Madison in the 1950s, then worked as a beef herdsman for the University from 1957-1960. He then joined Kent Feeds Junior Feeder Department in Muscartine, IA and in the early years spent much of his time working with 4-H and FFA members conducting cattle fitting and grooming schools and attending fairs and livestock shows to help coach young exhibitors. In the meantime, Jack was working his way up through the ranks of Kent Feeds and in 1994 was named President, a title he held until he retired in 2002. Jack is also the author of Jumpin' Jackie the Cow that Jumped Over The Moon. He lives with his wife Laura and dog Rolf in California. Jack would agree that Rolf was able to train his pet human!