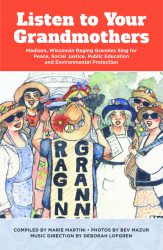 Raging Grannies
$19.95
Since a fall 2003 rally protesting against the Iraq war, the Raging Grannies of Madison have dedicated themselves to the mission of promoting peace, justice, and social equality. Specifically, during the Act 10 fight in 2011, the Raging Grannies helped energize the protest crowds with their satirical songs and chants in the Capitol rotunda.
200 page paperback, 5.75 x 8.75 inches
REVIEWS
"The Raging Grannies of Madison are iconic. They have been at the forefront of so many struggles our state has faced and strike the perfect balance of compassion and reason with needed levity and humor. Their creative leadership and dedication to social justice is unparalleled. The Raging Grannies of Madison are an inspiration to us all!"
The Raging Grannies are fearless, clever, and inspiring. They're an indispensable part of Wisconsin's progressive movement, and they're helping to make Wisconsin a state we can once again be proud of.