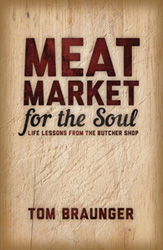 Meat Market for the Soul, Life Lessons from the Butcher Shop
ISBN: 978-0-9899784-7-7
$15.00
At the Market, I watched a chicken-cutter die in agony on the floor. I also listened to a bull-roar story about bison-sized rats attacking modern-day buffalo hunters in a Custer's Last Stand affair. I saw a cousin knee a guy so hard that the fellow ended up unconscious in a sea of urine—and richly deserved it. Oddly enough, I learned about the rare slices of life in a place I loathed and hated.
At the Market, I swung at encircling rats with an axe handle in a flooded shaft. In a meat cooler, I watched as a rapist that had escaped the law, got the stuffing kicked out of him. I skidded down a drag strip upside down in a car with an MG body and a Pontiac engine, the roof shedding inches from my head. And I learned with the courage every Braunger is born with—but somehow skipped me—one could fake it.
On a Market charity run, I nearly took out a bishop's limousine on an icy hill. My father's "clay feet" were later exposed to me by a tank of soaking hams. I also found out that one can't escape a lie detector machine after stealing meat from the Market. I watched my father's revamped school go up in an explosion And I learned about the nobility and greatness born in all of us.
140 page paperback, 5.75 x 8.75 inches
ABOUT THE AUTHOR - Tom Braunger
Tom Braunger was born in 1942 in Sioux City, Iowa. He was the oldest of nine children, six boys and three girls. Growing up he liked English for the mind games played by high school teachers to have students get both writing style and ideas down clearly.
As a young adult at the Market, he gravitated to two men. Paul Jr. was the dashing, handsome daredevil who drove a car like a man possessed. His high intelligence Tom noticed from the first time they met at the Market. His counterbalance was Noel Longbottom, a wise, deep-thinking man who had a noble spirit in him.
Life was pretty boring as an adult until he married Lujean, who breathed life into him again. The second jolt was teaching at Waunakee High School. The staff was unbelievable: hard-working, imaginative, and caring. Teachers like Dick Arndt, Mark Hetzel, and John Janty were inspirational. Don Holmen showed the caring side along with such efficiency as a librarian. But he enjoyed the students the most.
The twenty–six years of teaching at Waunakee were fulfilling, interesting, mind-stetching. He started his story-telling his first year teaching and continued until he retired at 56. Then he nearly went crazy from boredom until noted novelist Kathy Steffen introduced him to the world of historical fiction.
If you can't figure out which stories are all imagination or which based on incidents (punched up a bit), email him your favorite story: tbraunge@msn.com