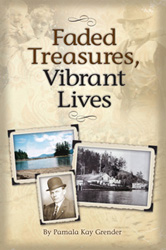 Faded Treasures, Vibrant Lives
ISBN: 978-0-9828023-4-2
$18.99
"These pictures are a family treasure," Aunt Emma had written to my father when she sent him the two time-worn, tattered photo albums. Long ago, when the books were new and their pages crisp and empty, my grandmother had opened each one and pasted in pictures of her brothers and sisters and the faraway places that had drawn them all away from her. Many years later the books were given to me; through the photographs, I met family members I had never known, traveled to places I had never been and revisited a part of America's past. Welcome to the story of my journey.
160 page paperback, 6 x 9 inches
ABOUT THE AUTHOR - Pamala Kay Grender
Pamala Kay Grender is a former elementary teacher. She graduated from San Diego State University and currently lives in Temecula, California where she is active in the history community. She has been a board member of the Temecula Valley Historical Society and is a Past President of the Temecula Valley Museum Board.