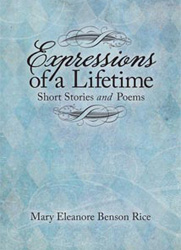 Expressions of a Lifetime, Short Stories and Poems
ISBN: 978-0-9849245-1-6
$15.00
This book is a collection of deeply personal experiences based on the life of the author. The stories and poems were written "in the moment" and the author believes they may take on a different meaning each time they are read.
114 page paperback, 5.25 x 7.25 inches
ABOUT THE AUTHOR - Mary Eleanore Benson Rice
Mary Rice grew up on a dairy farm in Mineral Point, Wisconsin. After high school Mary attended Milwaukee Downer Woman's College and then transfered to the University of Wisconsin-Madison where she received a Bachelor of Science degree from the school of Home Economics. Mary currently enjoys spending time with her family and her dog.