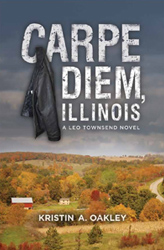 Carpe Diem, Illinois (Audiobook)
$20.00
For decades, the small town of Carpe Diem, Illinois has quietly unschooled its children, eschewing tests and classrooms for real-life experiences. Now, long-smoldering political feuds – and deep personal secrets – threaten to explode. When her mother is hospitalized in Carpe Diem after an auto accident, teenager Tali Shaw, the daughter of a powerful state senator, finds herself at the heart of a vicious conspiracy to bring Carpe Diem down. Can prize-winning Chicago Examiner reporter Leo Townsend overcome his own demons and expose those behind the scheme before it's too late? And when the truth is finally revealed, can Carpe Diem ever be the same?
284 page audiobook
ABOUT THE AUTHOR - Kristin Oakley
Carpe Diem's unschooling lifestyle is based upon Kristin Oakley's own homeschooling experiences. Kristin unschooled her two daughters, founded two homeschooling support groups, wrote for Home Education Magazine, and offered workshops at the InHome Homeschooling Conference in St. Charles, IL. Kristin is a founding member and former president of the professional writers' organization, In Print, a board member of the Chicago Writers Association, and teaches an online writing course through the UW-Madison Division of Continuing Studies. She lives with her family in Madison Wisconsin, just down the road from Carpe Diem, Illinois.