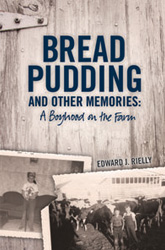 Bread Pudding and Other Memories: A Boyhood on the Farm
ISBN: 978-0-9899780-7-1
$17.95
Bread Pudding and Other Memories: A Boyhood on the Farm takes the author back to his childhood on a small dairy farm in southwestern Wisconsin and the life he lived growing up in the 1940s and 50s—a way of life that has largely disappeared from the American scene. His memories are rich and varied: of the farm, including the barns that served many purposes, from milking cows to playing baseball in partnership with a tall barn wall, and the large white farmhouse with the treasure trove of its "far room"; of his one-room school with thirteen students, spelling bees, dual outhouses, and Christmas pageants; of parents and siblings, each unique and appealing, short on money but long on love and hard work; of the special places that made up his small hometown; of favorite television shows, prized toys, a fascination with professional wrestling, early encounters with confession and church missions, a first love (albeit through the television screen), dogs and trees that filled the roles of playmates, and many other moments of the author's early rural life. It is a world worth keeping alive, if only in memories and on the pages of a book.
180 page paperback, 5.75 x 8.75 inches
ABOUT THE AUTHOR - Edward J. Rielly
Edward J. Rielly grew up on a small dairy farm in southwestern Wisconsin and attended local schools before earning a B.A. in English from Loras College in Dubuque, Iowa. He later earned a doctorate at the University of Notre Dame in eighteenth-century British literature. In 1978, he moved with his wife, Jeanne, and their children, Brendan and Brigid, to Maine, where he continues to teach writing and literature courses at Saint Joseph's College. He has published about two dozen books, including collections of his own poetry, biographies, works on Native American history and culture, and studies of literature.