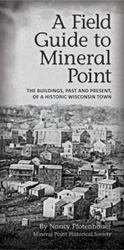 A Field Guide to Mineral Point, The Buildings, Past and Present, of a Historic Wisconsin Town
ISBN: 978-0-9879245-2-3
$18.00
Mineral Point started as a wild and wooly frontier town. With the discovery of lead in 1828 it attracted all types of people looking to get rich, quick. These early folks left a lasting imprint in the buildings they constructed, used and left behind. This field guide documents these buildings, drawing on the rich collection of photographs held by the Mineral Point Historical Society and the Mineral Point Library Archive, and provides a unique look into what is today a quintessentially American town.
272 page paperback, 4.25 x 8.5625 inches
ABOUT THE AUTHOR - Nancy Pfotenhauer
Nancy Pfotenhauer moved to Mineral Point, Wisconsin in 1986 with her husband and two daughters. Born in Sauk County, Wisconsin, she has two Bachelor's degrees from the University of Wisconsin – Madison.  She has served on the board of directors of the Mineral Point Historical Society since 2005 and has been digitizing and archiving the Society's photograph collection since 2008. Nancy has been immersed in researching the history of Mineral Point since 2006 when she attended a Lyceum sponsored by the Historical Society and wondered why, on the same day, two young men from Lincoln, Nebraska married two young women from Mineral Point. She eventually found the answer to that question but by then was captivated by the town's history and continues to search out stories and photographs from the early days.