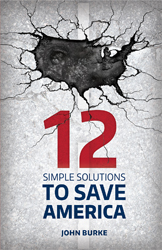 12 Simple Solutions to Save America
ISBN: 978-1-942586-13-5
$18.95
A nearly $19 trillion debt. A 74,608-page tax code. An increase in global temperatures. A broken Social Security system. These are just some of the problems plaguing our nation. While politicians are quick to offer lip service, they are slow — or non-existent — with solutions. Americans are frustrated with the lack of leadership as evidenced by Congress' 10 percent approval rating. Now is the time for simple, bold changes that will alter the direction of this nation. Drawing on more than three decades of business experience, John Burke applies his tested problems-and-solutions approach and independent thinking to tackle the complex problems that America faces. In 12 Simple Solutions to Save America, Burke proposes concrete solutions to fix these issues and challenges Americans to resist the status quo and change what elected officials are unwilling or unable to change. Americans have a civic duty to make the tough decisions that improve the lives of citizens over the long-term. It can be done, but it will not happen by accident.
148 page hardcover, 5.75 x 8.75 inches
ABOUT THE AUTHOR - John Burke
John Burke began working at Trek Bicycle in 1984 and has been president of the company since 1997. In addition to leading Trek, John served as chairman of President George W. Bush's President's Council on Physical Fitness and Sports and is a founding member of the Bikes Belong Coalition. John is an avid cyclist who has finished Ironman Wisconsin twice as well as completing the Boston and New York Marathons. John and his wife, Tania, live in Madison, Wisconsin.